One of the many blogs I follow on my main blog Emily Kiddy is Pattern Observer. Today they write and article titled 'Trend Research for a Successful Portfolio Project'. From my experience of talking to students I know that this is a subject that can often be quite daunting at first but really enjoyable for most once they gain their confidence. This article is a must read for all budding Fashion Students!
Trend Research for a Successful Portfolio Project - Courtest of Pattern Observer Blog
Have you read the introduction, as well as the other posts in this series? If not, I recommend starting
here
.
Developing a portfolio project with a specific company in mind shows the hiring manager that you are able to adapt your style to the company's existing brand image. Since your job experience is minimal at this stage, it is important to show the manager that you can create prints and graphics for someone other than yourself! After researching the company's target market and choosing a target season, the next step involves finding trends and concepts that are appropriate for the company.
Identify images that will resonate with your customer
At this point, you should have a fairly in depth understanding of the end-use consumer. To help you stay focused, make a list of all the images that you think will resonate with this customer.
For example, in Step One I mentioned that my customer really loves to kayak, so it is pretty safe to assume that she is drawn to nature-inspired prints. My customer may be drawn to: birds, leaves, water, flowers and textures. Having this list created before you begin any trend research allows you to stay clear on the goal at hand: creating a project to land your first job or internship.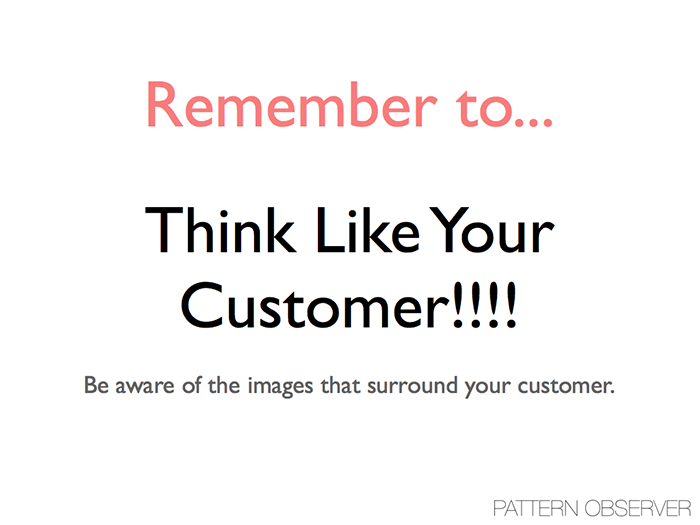 Research trends in a focused manner
With your customer mood board and list of images in hand, it is time to begin your trend research! I hope that Pattern Observer can be a beneficial resource throughout the design process. When using Pattern Observer, you can either browse through the different categories that apply to your market (on the right-hand side of your screen) or you can use the search tool to find prints from various seasons. I also encourage you to check out
Stylesight
,
Pattern People
and
Mudpie
for additional inspiration.
As wonderful as blogs and trend services are, I think it is important for you to do your own research without someone else's filter on what is trending. You know your customer and need to see the big picture, not just a blogger's interpretation of the trends. To do this visit sites like
Style.com
and
Vogue.com
where they post most of the recent runway collections.
Throughout this research process, constantly refer back to your customer mood board and your list of images. Are these trends in line with the customer? Can these trends be interpreted in a way that will resonate with your customer? Are they appropriate for the season that you chose in Part Two?
If not, ignore the trend or set it aside for a future project. Remember to stay focused on the task at hand and think of the customer who you know so well!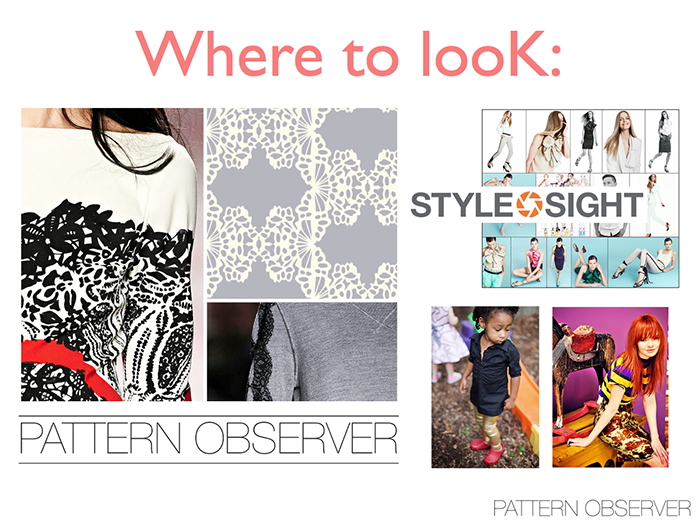 Develop a Trend Board
Similar to your customer mood board, quickly compile the strongest trends onto a board for use during the design process. This can be done in illustrator or photoshop and doesn't need to be finalized until later on in the design process. For the time being, this mood board will just be used to help you stay on track during the design process.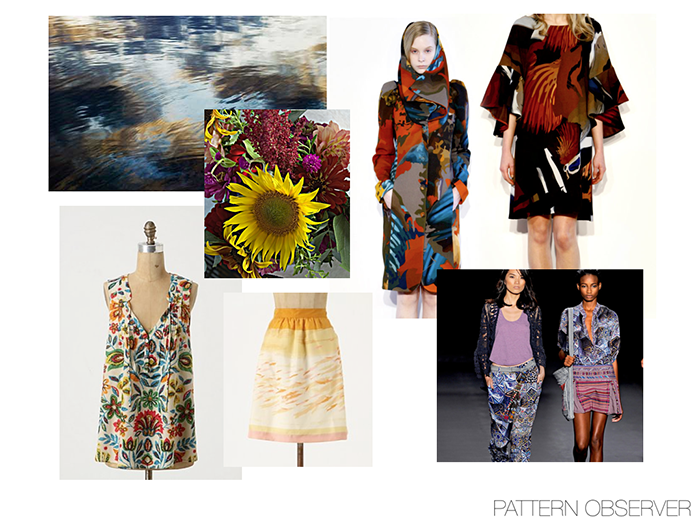 I would love to see the trend board that you develop this week! Each design participant will be entered into a drawing for a FREE copy of
The Sellable Sketch Self-Study program
, which launches on Monday!
Please post your mood board (or a link to your board) on the Pattern Observer facebook page.
In 2 sentences or less tell us about the trend and why it is appropriate for your customer.